Annual telethon delivers lineup of marquee musical performances, with CTV Atlantic personalities hosting in multiple locations across Maritimes
Viewers can donate throughout the telethon by phone, online at ChristmasDaddies.org, at any RBC branch across the Maritimes, and at Credit Unions in Cape Breton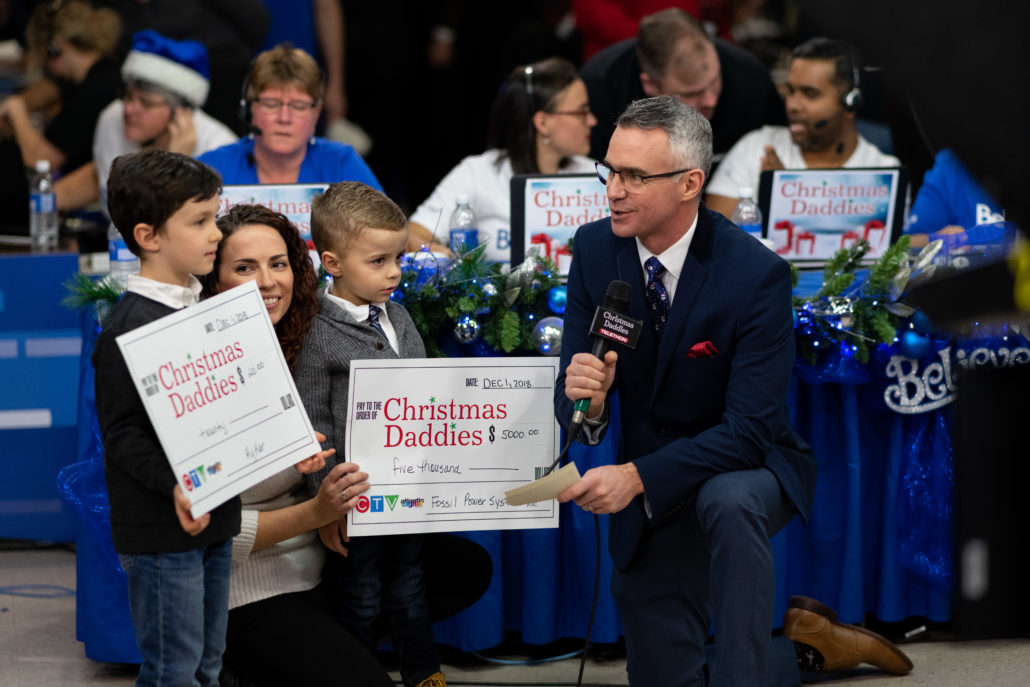 Photo credit: Alex MacAulay Photographers
HALIFAX (December 4, 2019) – CTV Atlantic prepares to make the holidays brighter for families in need across the region during its 56th ANNUAL CHRISTMAS DADDIES TELETHON, airing this Saturday, Dec. 7 from 11 a.m. – 6 p.m. AT on CTV. Live coverage of the annual holiday event is also available throughout the day on CTVAtlantic.ca and on the CTV and CTV News apps.
CTV Atlantic's longest-standing tradition celebrates its 56th year of uniting Maritimers in the spirit of giving with those in need in their communities. The CHRISTMAS DADDIES TELETHON has raised more than $32 million since 1964, with funds supplying gifts and food for Maritime families during the holiday season. This unique seven-hour special features a multitude of performances from an impressive roster of Maritime musicians across all three provinces.
Throughout the broadcast, Bell Media and Bell Aliant employees and retirees will be standing by to accept donations over the phone. Viewers can call 1-844-400-1964, with phone lines opening at 11 a.m. AT. In addition, financial donations can be made online throughout the month of December at ChristmasDaddies.org, as well as at any RBC branch across the Maritimes and at Credit Unions in Cape Breton.
"With countless staff members, volunteers, and talented performers coming together in the spirit of giving, CHRISTMAS DADDIES is a time-honoured holiday tradition that we're incredibly proud to uphold," said Trent McGrath, Vice-President and General Manager, CTV Atlantic. "For more than five decades, we've witnessed the generosity of viewers across the Maritimes supporting this great cause, and we look forward to delivering another very memorable broadcast this year."
"Bell Aliant is proud to continue its holiday tradition of supporting the CHRISTMAS DADDIES TELETHON," said Glen LeBlanc, Bell's Vice Chair, Atlantic. "Each year our employees and retirees throughout the region look forward to volunteering for this special event to support families in need over the holidays."
One of the most anticipated annual charitable fundraising initiatives in the region, the 56th ANNUAL CHRISTMAS DADDIES TELETHON is led by the team of CTV Atlantic anchors, hosts, and reporters who look forward to fostering holiday spirit, fun, and excitement viewers expect from this popular special.
Hosting this year in Halifax are CTV Atlantic anchors Steve Murphy, Maria Panopalis, and Jayson Baxter, alongside meteorologist Kalin Mitchell. They are joined by CTV NEWS AT 5 reporters Heidi Petracek, Katie Kelly, Suzette Belliveau, and Nick Moore, while CTV MORNING LIVE host Ana Almeida, CTV Fredericton reporter Laura Brown, CTV Moncton reporter Eilish Bonang, and New Brunswick musician Ivan Daigle co-host from the CTV studio in Moncton, N.B.
In Cape Breton, hosting duties are shared by CTV Atlantic's Ceilidh Millar, Kyle Moore, Jessica Ng, and Ryan MacDonald, alongside CTV alumnus Jeff Hutcheson and Cape Breton-born actor Billy MacLellan. Hosting in Charlottetown is celebrated comedian Jimmy the Janitor.
The telethon boasts a robust lineup of beloved Maritime artists who are set to deliver live musical performances at various locations. In Halifax, two-time JUNO Award winner and seven-time CCMA award winning country artist George Canyon takes the stage, as well as Myles Goodwyn, a founding member of the veteran Canadian rock band April Wine; Canadian country music singer Aaron Pritchett; the 2018 Music Nova Scotia Recording of the Year Award Winner David Myles; Halifax-based reggae artist Jah'Mila Dunn-Smith; and Nova Scotian singer-songwriter Jackie Putnam.
Led by musical director Fred Lavery in Cape Breton, a collection of entertaining performances take centre stage, including Matt Minglewood, JP Cormier, Dave Gunning, Robert Bouchard, Stephanie Beaumont, Margaret MacPherson, Laurel Martell, High Society, The Privateers, and many more. The stage in Moncton includes homegrown Maritime musicians such as Tomato Tomato, Denis Surette with Brian Coughlan, and a special performance from Ivan and Vivian Hicks with Sara and James Nelson. Meanwhile, The Guild in Charlottetown hosts several notable artists, including Catherine MacLellan, Tara MacLean, and Dylan Menzie.
CTV Atlantic's partnership with The Salvation Army provides more than 18,000 Maritime children and parents with toys and gifts at Christmas each year. All financial donations are redistributed within their originating geographic area, allowing viewers to donate within their own communities.
CTV donates airtime, technical equipment, and resources for the event, while employees, families, and friends volunteer their time to continue the program's success.
https://www.christmasdaddies.org/wp-content/uploads/2019/12/STEVE-VOLS-scaled.jpg
2560
2560
Roxanne Robinson
/wp-content/uploads/2016/05/Christmas-Daddies.png
Roxanne Robinson
2019-12-04 18:15:25
2019-12-04 18:25:38
CTV Atlantic Airs 56th ANNUAL CHRISTMAS DADDIES TELETHON - Saturday, December 7