In support of Christmas Daddies
Members of the Fleet Diving Unit (Atlantic) will be running the roads of Shearwater, Dartmouth, Bedford and Halifax in support of children in need this holiday season.
Support from the Navy Divers has raised more the one million dollars in 36 years for the Maritime tradition known as Christmas Daddies.
Motorists are advised to be patient or use alternate routes on Saturday, December 7
November 27, 2019 – Fleet Diving Unit Atlantic will once again participate in their 37th Annual Christmas Daddies Run on Saturday, December 7, 2019. Members of Fleet Diving Unit (Atlantic) and their families begin their 50 km trek at CFB Shearwater – running through Dartmouth, Sackville, Bedford tackling the final leg of the journey from the Armdale Rotary along Quinpool Road travelling north on Robie St. The Navy Divers will arrive at the CTV studios located at 2885 Robie Street in Halifax and appear on the 56th Annual Christmas Daddies Telethon to present funds raised from pledges and donations collected along their route.
Since their first year of involvement in 1983, nearly $313,500 in donations have been collected by the men, women and family members of the FDU(A). As well, the Fleet Diving Unit (Atlantic) donated the MK5 Navy Divers helmet to the auction portion of the Christmas Daddies program in 1985. This auction item has been coveted by Big Leagues Beverage Room in Cole Harbour, NS on 30 occasions. The additional funds raised from the highest bidder of the MK5 Helmet when added to the amounts collected on the annual run, have reached an impressive amount – more than one million dollars since 1983.
Amanda Debison, CTV News at 11:30 Anchor and the C100 radio street team will accompany the divers on their trek providing updates during the Christmas Daddies broadcast and on C100 radio.
Past fund raisers by the Navy Divers have included a route from Truro to Halifax and a swim across the Halifax Harbour.
The funds raised through the Christmas Daddies Telethon provide toys, gifts and food for less fortunate children and are distributed by The Salvation Army. More than 18,000 Maritime children and parents are helped each year at Christmas time.
The 56th Annual Christmas Daddies Telethon will be broadcast live Saturday, December 7, 2019 from 11 a.m. to 6 p.m. on CTV with a livestream on the web at CTV Atlantic https://atlantic.ctvnews.ca/
New this year, the Navy Divers have a GoFundMe page dedicated to raising funds for Christmas Daddies, visit the page at https://www.gofundme.com/f/christmas-daddies-telethon to show your support.
If you see a bunch of people running down the streets and roads of the Halifax Metro region, please give to this very worthy cause. GO NAVY!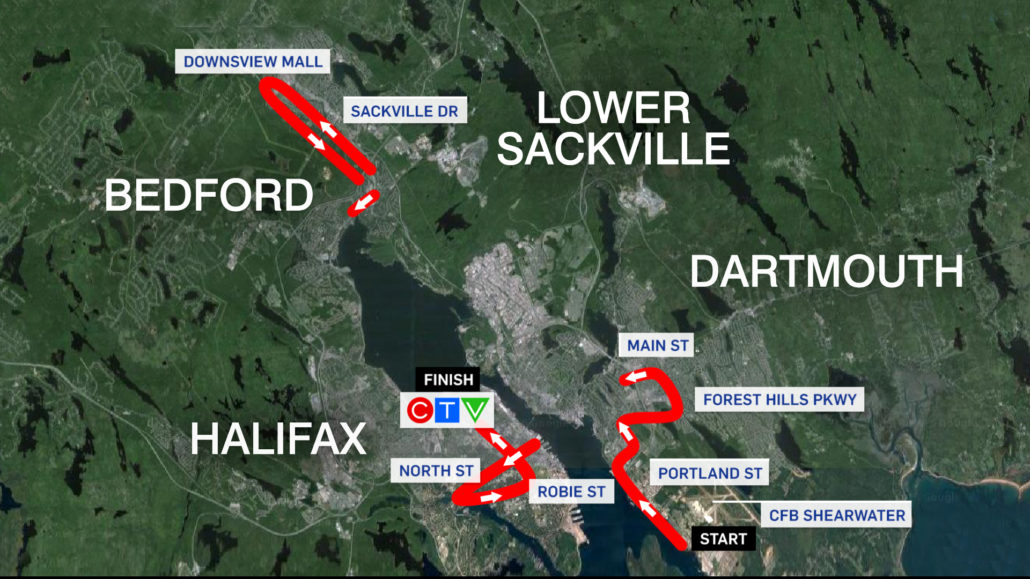 ROUTE on Saturday, December 7, 2019
8:00 a.m. Gather at Fleet Diving Unit Atlantic, 12 Wing Shearwater
8:30 a.m. Runners will leave CFB Shearwater
Proceed northwest on Route 322 and Pleasant St
Northeast on Prince Arthur Avenue
East on Portland St
North on Forrest Hills Parkway
West on Main Street
Arrive Smitty's Main St – (Dartmouth portion complete)
Arrive Sackville Petro Can Station – commence run
Proceed northwest on Sackville Drive
Arrive Downsview Mall, turn around
Proceed Southeast on Sackville Drive
Return to Petro Can Station – Sackville portion complete
Arrive Royal Canadian Legion, Bedford Branch 95 – commence run
Proceed south along Bedford Highway
Stop for lunch at McDonald's, 1493 Bedford Highway (Bedford portion complete)
Arrive CFB Dockyard-commence run
Proceed East on North St.
Merge east on Chebucto Road
Around Armdale Rotary
Exit Rotary onto Quinpool Road
Proceed East on Quinpool Road
North on Robie St.
4:30 p.m. Arrive CTV studios – 2885 Robie St for presentation on  Christmas Daddies Telethon live TV broadcast
Follow along on Social Media:
Twitter Christmas Daddies: @DaddiesTelethon
Amanda Debison: @ADebisonCTV
Royal Canadian Navy Instagram accounts:
EN: @RCN_MRC
FR: @MRC_RCN
Maritime Forces Atlantic Facebook Page: MaritimeForcesAtlantic
For more information contact:
Roxanne Robinson, Christmas Daddies
Phone: 902 452 3232
Email: Christmas.Daddies@BellMedia.ca
https://www.christmasdaddies.org/wp-content/uploads/2016/11/2010_photo4.jpg
2832
4256
Roxanne Robinson
/wp-content/uploads/2016/05/Christmas-Daddies.png
Roxanne Robinson
2019-11-27 01:09:26
2019-11-27 22:24:24
50 Km NAVY DIVERS RUN on Saturday, Dec 7